Wardrobe and Bathroom Merge
For this ensuite our client wanted to make more use of the dressing space and incorporate it into one room. A smaller adjoining bedroom was going to be used for access to the 'walk in wardrobe' instead. We were given free rein on design with the only proviso for a bath and separate shower.
BEFORE
We looked at different door openings and did a bit of block space planning with different lengths, widths and styles of baths and shower areas. That was it, we decided that we would use the angled opening as the door to the room and blocked off the existing door to the ensuite which also gave better access to the room .
The design included a host of different studwork details, sometimes 4 walls just isn't enough! You will see from the design that we wanted to keep a dry area and wet area, giving privacy to the showering and WC space. A straight bath just didn't work in here so after discussion it was decided to use a comfortable but contemporary corner bath with a mosaic tiled panel and corian ledges which became the focal point at entering the room. What was a dark, low, awkward to access wardrobe was now a feature bath set with illuminated recesses and a feature handed towel radiator. To the right, a wall was built to house the basin/vanity area with functional mirror cabinet thus creating another space behind for the large wet area space. Flowing around the curved basin unit the room takes you to the WC which has a portrait feature recess for a plant/sculpture with illumination and built from the side of the boxing a seat ledge that enters into the showering space with another handily placed towel radiator.
AFTER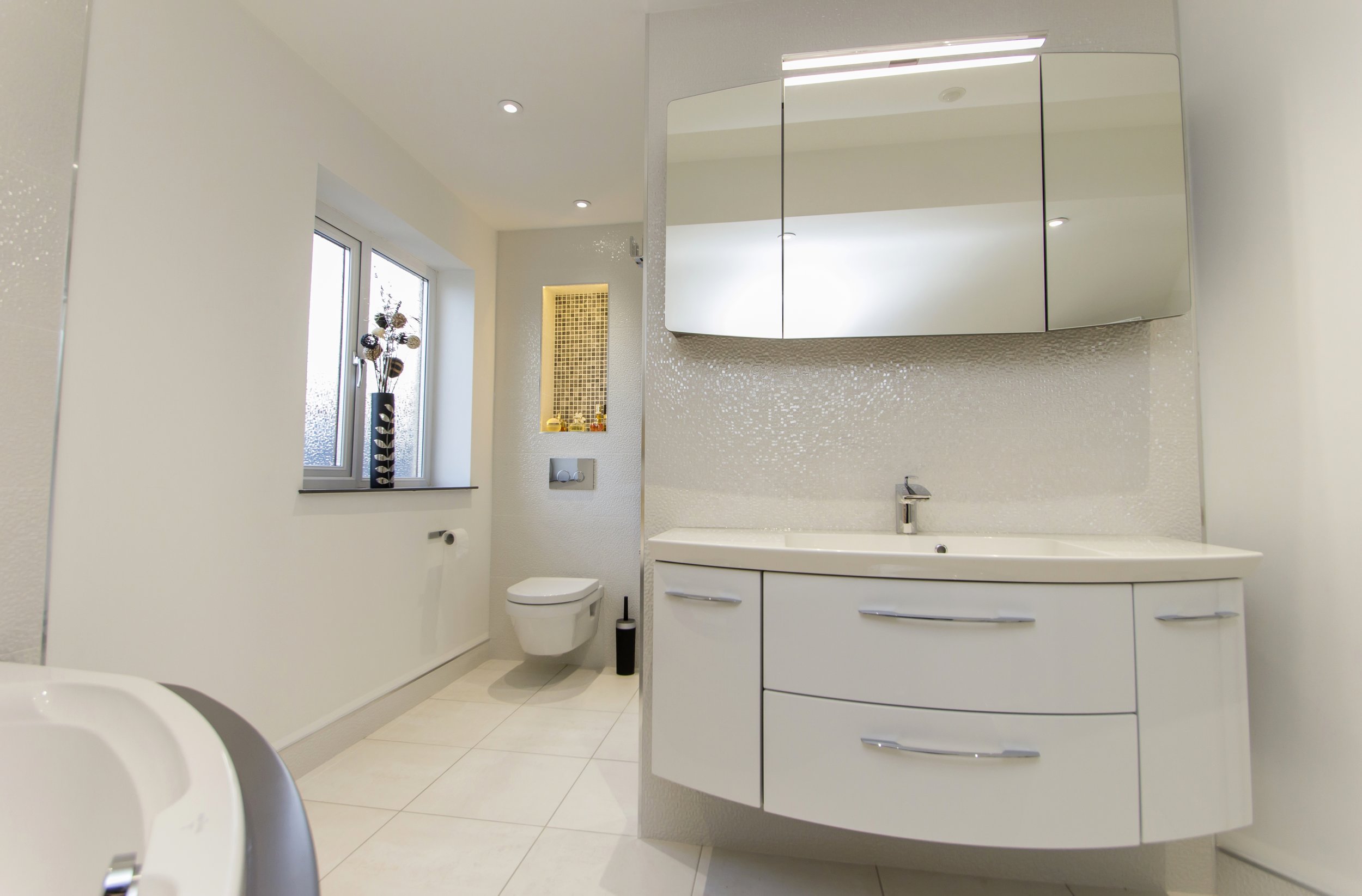 Lots of features in this room, bright whites with a textured glossy wall tile, light floor throughout then the mosaic from the bath repeated in the recesses and shower tray with bold anthracite radiators standing strong off the walls.